Bryan, Lisa and Stefan Fry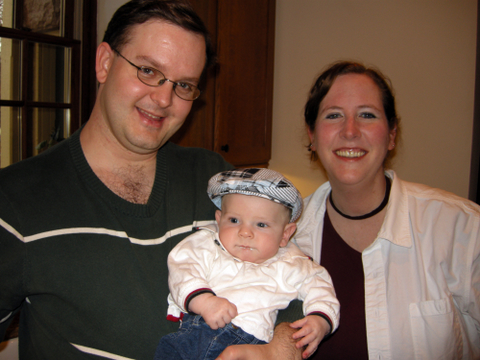 Lisa and I were married on April 27, 2006 and our son Stefan was born on December 19, 2008. We live in Denver, CO with our cats Xander and Akira.

We try to get pictures posted regularly and there is a page of all we've posted. Click here for the pictures page.
---
Interests
Film
I started the Denver Cinema Club in October, 2004, to go see intersting movies and meet other people interested in film. For movie reviews, I really like and try to keep up with James Berardinelli's Reelviews.
Music
I have always listened to a lot of music and have quite a lot of it. I just recently updated my master music list for the first time in about 3 years, and I have it setup to where I can generate this list automatically from my iTunes library now. So anything on vinyl or tape that I haven't digitized won't show up on here. I have 2 versions of the list, one has artists and albums and the other includes artists, albums, and tracks as well so it's much larger and may take a minute or so to load so be patient. I used to make year-end favorite lists, but haven't for a few years.
WFMU plays everything imaginable and has a great website with years of archives of theirs shows.
Board and Card Games
Lisa and I have been playing a lot of interesting board and card games, which I find out about on Board Game Geek. We play a lot of Dominion and Lost Cities and also play Apples to Apples, Chrononauts, Citadels, Doppelkopf, Fluxx, Hearts, Le Havre, NHL Ice Breaker, Pandemic, Puerto Rico, Race for the Galaxy, Small World, and Treehouse games.
Science Fiction
I read (and watch) a lot of science fiction. Lisa and I went to the 66th World Science Fiction Convention, which was held in Denver in August, 2008, met a lot of authors and had a lot of fun.
Astronomy
I became interested in astronomy in late 2003 and have since joined The Denver Astronomical Society. I currently have an 8" Orion Dobsonian telescope.
Cacti and Succulents
After visiting the Desert Botanical Garden in Phoenix, I decided I wanted to try my hand at growing cacti and succulents. I have pictures of most of my plants, as well as seedlings I've started. I've joined the Colorado Cactus and Succulent Society to learn more.
Some good sources for general information on cacti and succulents are Desert Tropicals and the Gardenweb Forums Cacti Gallery and Cacti and Succulents. For seeds, the selection at Mesa Garden is hard to beat.
Comic Books
I have read and collected comic books since 1986 and i liked to read the reviews at The Fourth Rail when they were active.
Languages and Travel
I have recently gotten more interested in learning languages in conjunction with taking 3 trips to Europe in the last 3 years. I learned some German in high school and learned a lot more before going to the World Cup in Germany. A couple of sites I've used a lot while learning German are German Language Resources and this German-English Dictionary.
In preparation for someday going to the Czech Republic, Lisa and I have started learning Czech as well. A good general site on Czech is Local Lingo and I have used this Czech-English dictionary.
Computers
I have been interested in computers for most of my life and am employed as a Java programmer. I do have my resume online here, but it's not really up to date as I'm not currently looking for a job. I specialized in computer graphics and scientific visualization in graduate school and the output of one of my old projects can still be seen here.
Hiking and Snowshoeing
I used to go hiking quite a lot and I hope to get back into it soon. Here is a picture of me after climbing 6 hours to the top of Mt. Evans at 14,264 feet in August, 2000.
Soccer
Lisa and I used to have season tickets for the Colorado Rapids and I try to keep up with some of the European leagues as well as the MLS. A good site for current standings in soccer leagues all over the world is Soccer Association, as it's sometimes hard to find standings for other leagues.
Hockey
Lisa's favorite sport is hockey and her team is the Colorado Avalanche. We go to quite a few of the games and she tries to see how many pictures she can take.

Auf wiedersehen! Na shledanou!
---
Mail me at bfry<at-symbol>tardis.nu